Basic Layouts
Basic Layouts
By popular request, we present.....
A sturdy, professionally built, ready-to-run layout suitable for children and adults alike, an ideal basic layout to which you can add extra track and your own buildings and scenery.
'
Southborough' is inspired by Plan 4 in the "Peco Setrack 00/H0 Planbook". Plan 5 can be used as a guide for adding a second circuit to this layout.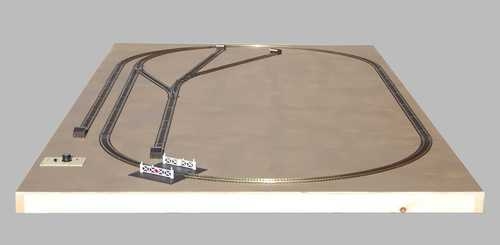 (trains and buildings not included)
Size - 203cm x 107cm (6ft 8ins x 3ft 6ins)
Track - 00 gauge,
Peco
Setrack, 2nd radius curves throughout (suitable for most ready to run stock).
Complete with
Gaugemaster
controller (model 100) and transformer (model WM1).
Baseboard - plywood on softwood frame, painted with a brown matt emulsion suitable for over-painting with enamel or water-based paints.
---
As Southborough, but without controller/transformer, and wired for DCC (Digital Command Control).
DCC control system not included.
---
Free with these layouts - over £180 pounds worth of buildings and accessories.......
12 x R460, 4 x R464, 1 x R8007, 2 x R334, 1 x R510, 2 x R553
plus 1 x either R8002, R8004 or R8006
and 1 x either R514, R076 or R8003
Details of offer subject to change.
---
Notes:
POST AND PACKING. With regret, due to the cost of packaging and delivery for such a large item, and the risks of rough handling, I am unable to offer P+P on these layouts. Layouts may be collected from our workshop, or I can deliver (from West Kent), the cost of this depending upon distance.
Details of layouts may differ slightly from layouts shown.
---