Layout - 'Tonbridge'

a scenic model railways layout –


incorporating
High Rocks Halt
and
Frant
An 00 gauge layout, 45' x 15', based on Tonbridge Station and incorporating 'cameos' from the surrounding area, as well as a branch line to a village station (Frant). Two years in the making (so far), this layout is now nearly finished.
There are no fiddle yards, but run-through storage sidings for 14 trains of up to 11 coaches are located in the tunnel under Frant station.
This layout is a
scenic
model railways
rebuild of an existing layout, although little of the original remains apart from the baseboards, the viaduct, and the track plan of Frant station.
Trackwork
-
Peco
code 75 with eloctrofrog points. One junction part scratch built (copperclad).
Ballast
-
Woodland Scenics
.
Point motors
-
Tortoise
(main layout - 127 in all!) and
Peco
(Frant Station).
Uncouplers
- Solenoid type (
Seep/Gaugemaster
).
Control panels
- Laminate, CNC drilled.
Buildings
- Tonbridge Station and High Rocks Halt are entirely scratch built. Other buildings and structures are a mixture of scratch built, part scratch built, kit built, and off-the-shelf. (
Town Street, Wills, Ratio, Superquick, Metcalfe, Langley Models, Scenix, Dapol
and others). (The viaduct was retained from the previous layout although the area around it has been remodelled).
Lighting
-
Patronics, RMlectronics, and Viessmann
. (Tonbridge Yard lamps custom built by
Patronics
).
Buffer stops (lit)
-
RMlectronics
.
Signal Gantries
- scratch built using
MSE
componants.
Single Post Signals
- Lattice post signals - scratch built (reused from the previous layout), rail built signals -
Ratio
kits with
MSE
componants.
Signalling System
- All home arms and some distant arms are fully operational and individually programmable using a combination of the 'Bouncer' system (
Full Stop Signals) and electronics and train detection (custom built by

Heathcote Electronics)

. The system is fully automatic, although the station and goods yard starter signals can also be cleared from the control panel.
Trees and Shrubbery
- Trees - Seamoss (
Greenscene
) with
Hekilaub
foliage. Shrubbery -
Hekiflor
.
Grass and Wheatfields
-
Noch
static grass with
Greenscene
wild flowers.
Tractors and Agricultural implements
- mainly kit built (
Langley Models, Springside)
.
People and Animals
- white metal castings (
Dart Castings, Langley Models),
hand painted.
---
High Rocks Halt disappeared in the late 1960s but traces of the foundations are still visible from the bridge which is still much as it has always been. The Line now belongs to the Spa Valley Railway Preservation Society and a new concrete Halt has been built a few yards down the line to serve the remote High Rocks Inn.
Note the two platforms - one either side of the Bridge.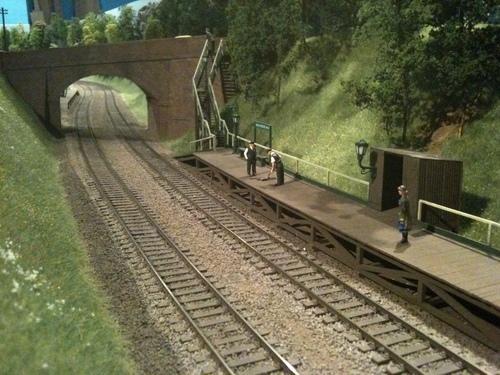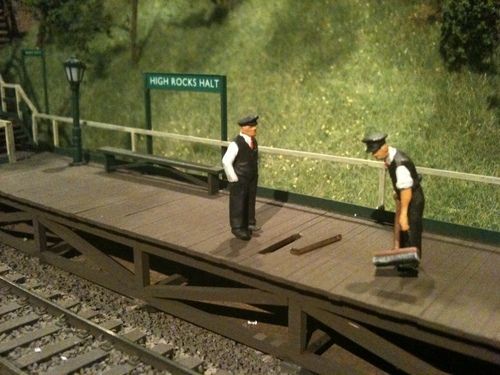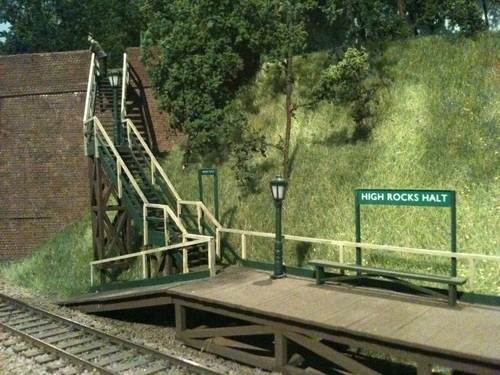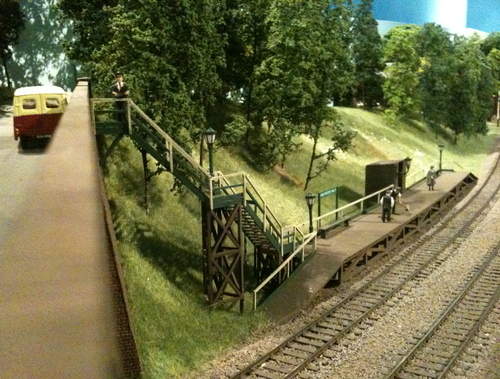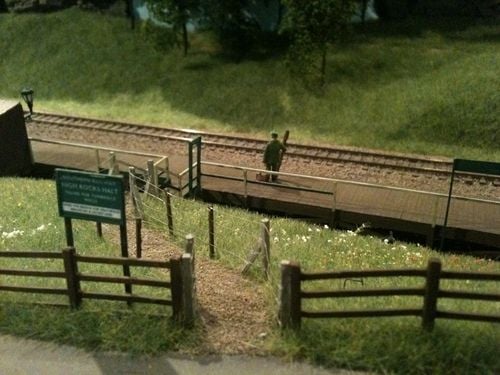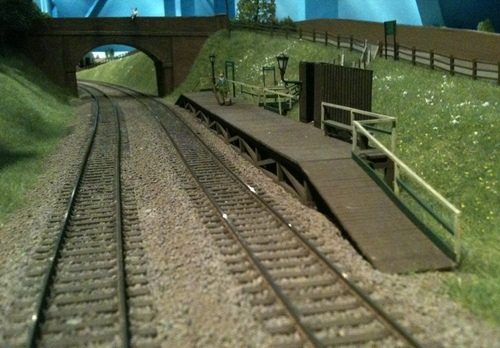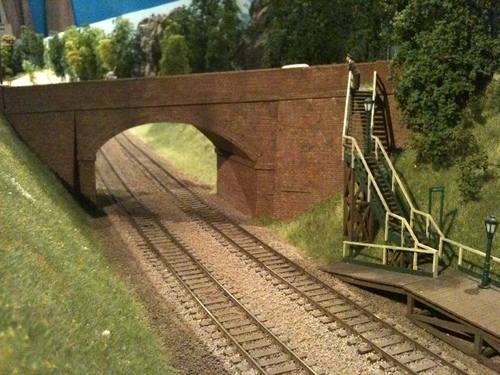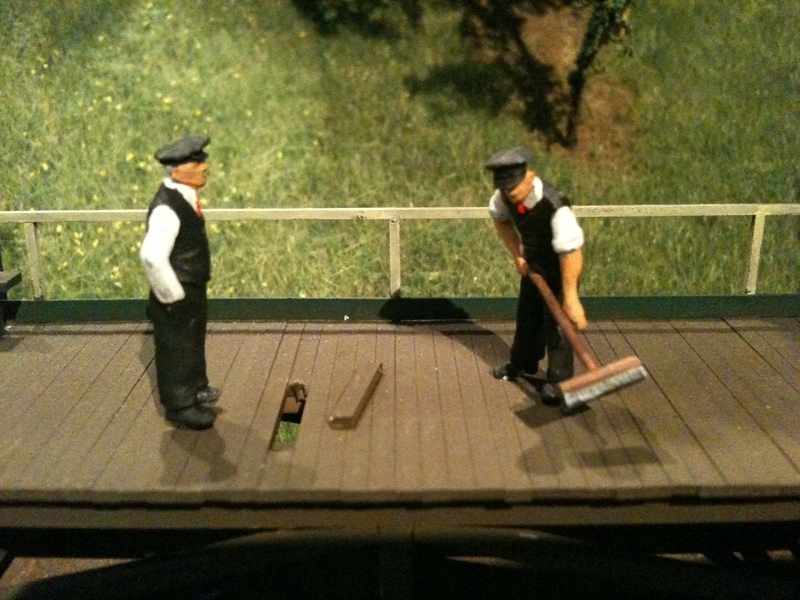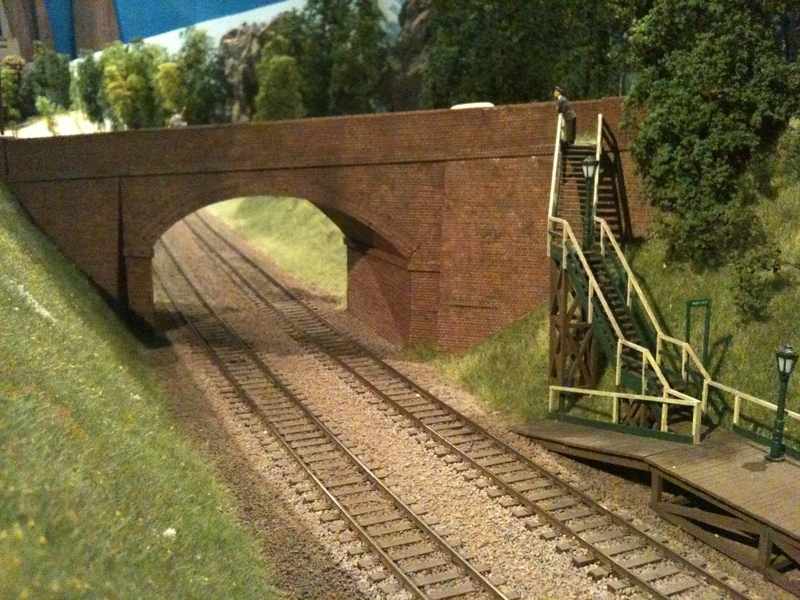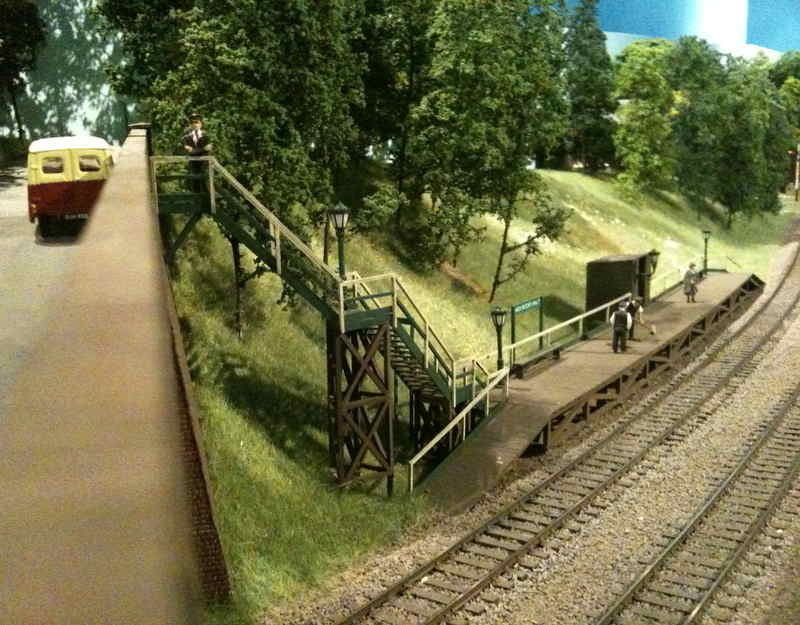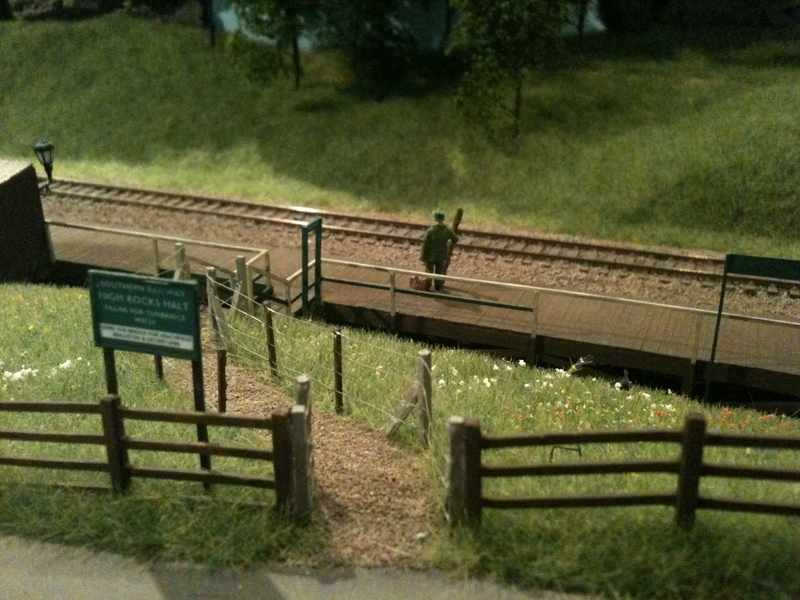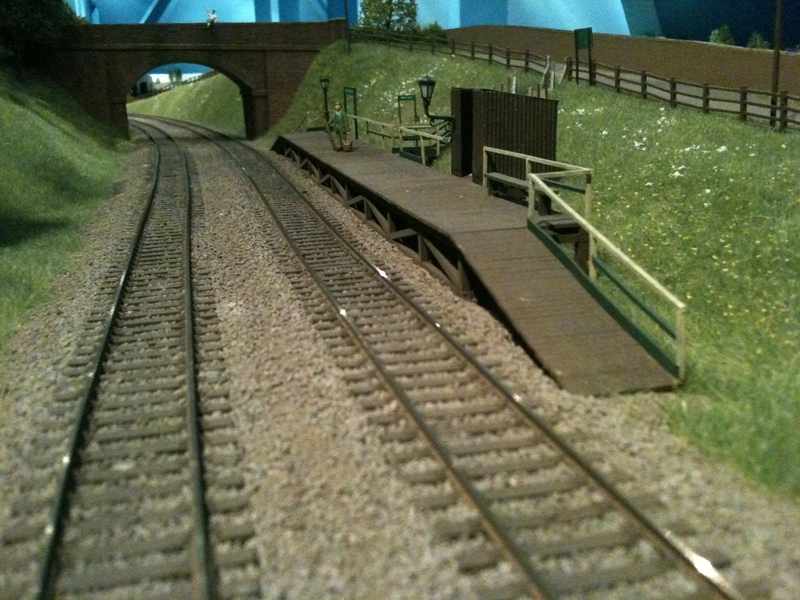 The Bridge and Halt are scratch built.
---
Frant Station does exist, but here the layout of the track and village is purely fictitious - a legacy of the pre-existing layout. The real Frant Station is in another village - Bells Yew Green - over a mile from Frant Itself!
(Slide show in preparation. Some pictures are currently in the Tonbridge slide show).
---
---
www

.
scenic

modelrailways
.

com